---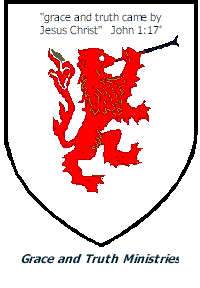 PRAYER REQUESTS AND PRAISE REPORTS:
James 5:13 Is any among you afflicted? let him pray. Is any merry? let him sing psalms. 14 Is any sick among you? let him call for the elders of the church; and let them pray over him, anointing him with oil in the name of the Lord: 15 And the prayer of faith shall save the sick, and the Lord shall raise him up; and if he have committed sins, they shall be forgiven him. 16 Confess your faults one to another, and pray one for another, that ye may be healed. The effectual fervent prayer of a righteous man availeth much.

Please take a moment to share with me your prayer requests & praise reports: simply write me: Email:

How to get Saved: The Bible says that "all have sinned and fall short of the glory of God." Confess your sins to God, as many as you can remember. Be sorry for your sins and ask God to forgive you and to cleanse you from all unrighteousness. He WILL! He says that He will. (1John 1:9) *Ask Jesus to become the LORD and Savior of your life. He is the one who paid the price for your sins, that you might be saved. God put your sins on Jesus at Calvary. *Confess Jesus as Lord and Savior. (Romans 10:9,10) Tell someone that you have received Jesus as your Lord and Savior. (Luke 12:8) *Begin to read the Bible every day and ask the Holy Spirit to teach you what it means. Begin with the book of John. *Pray to your Heavenly Father every day. Praise Him and thank Him for what He has done for you. He loves you.(Phil.4:8)

My wife Doreen and I attend "House of the Resurrection" located in SeaTac, Washington. We have ministered in numerous Churches, Prophetic Conferences, Full Gospel Business Men's International Fellowship and Woman's Aglow, and are available for ministry.